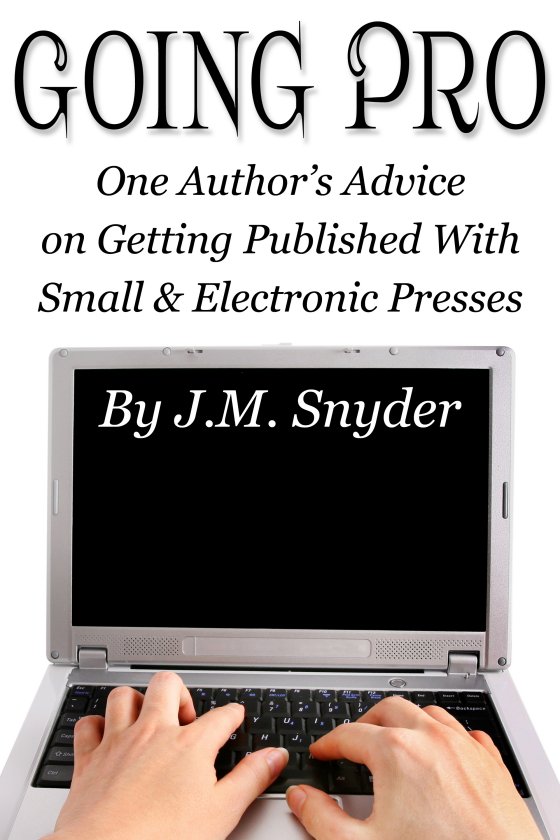 Going Pro: One Author's Advice on Getting Published with Small and Electronic Presses
is a concise guide that offers advice on all aspects of writing for publication. From finding the time to write to finding beta readers, from navigating all the elements of a successful submissions packet to understanding a publishing contract to marketing your newly published book -- here I offer the best advice I can on getting your first story from a file on your computer to an e-book released by a small or electronic press.
Topics covered include: polishing your manuscript, finding the right publisher, working with an editor, writing blurbs, and promoting your book. I give detailed explanations of submission guidelines, contracts, rights and copyrights, cover art, and marketing plans. I also offer advice on what to do when things don't go quite as you plan, whether it's a bad review or a pirate site, or your publisher folds.
It can be intimidating when you're just starting out and trying to get published. I know, I've been there, too. So if you're interested in getting your stories published with a small press or e-book publisher, let me help you through the process!
37,034 words | 178 pages | BUY AT JMS BOOKS :: AMAZON
EXCERPT:TABLE OF CONTENTS:

Part 1: Your Manuscript
Chapter 1: Finding Time to Write
Chapter 2: Feedback
Chapter 3: Sharing Your Work
Chapter 4: Back Up!
Chapter 5: Using a Pseudonym

Part 2: Getting Published
Chapter 6: Publishing with a Small Press
Chapter 7: Do You Need an Agent?
Chapter 8: Finding the Right Market
Chapter 9: Submission Guidelines
Chapter 10: Cover Letter
Chapter 11: Query Letter
Chapter 12: Blurb
Chapter 13: Excerpt
Chapter 14: Synopsis
Chapter 15: Full Manuscript
Chapter 16: Marketing Plan
Chapter 17: Understanding Publishing Terms
Chapter 18: E-Mailing Your Submission
Chapter 19: Follow-up
Chapter 20: Rejection Letters
Chapter 21: Acceptance Letters

Part 3: Contracts
Chapter 22: Assigning Your Rights
Chapter 23: Exclusive Vs. Nonexclusive Rights
Chapter 24: Copyright
Chapter 25: Things to Look For in a Contract
Chapter 26: Before You Sign

Part 4: Before Your Book Is Published
Chapter 27: Tax Documentation
Chapter 28: Author Bio
Chapter 29: The Dreaded Blurb Form
Chapter 30: Cover Art
Chapter 31: Working with an Editor

Part 5: Promotion
Chapter 32: What Your Publisher Does
Chapter 33: WWW Dot You
Chapter 34: Social Networking
Chapter 35: Blogging
Chapter 36: Ads
Chapter 37: Reviews
Chapter 38: Conventions

Part 6: When Things Sour
Chapter 38: Bad Reviews
Chapter 39: Piracy
Chapter 40: You Aren't Getting Paid
Chapter 41: Your Publisher Folds

Part 7: Keep Writing
Chapter 42: Keep Your Name Out There
Chapter 43: The Pros and Cons of Branching Out